There are plenty of different smoothie makers and blenders out there. However, not all are "created equal", so to speak. If you are in the need to quickly blend up creamy and delicious drinks – stop your research.
I have put together the top five ice crushing, fruit mashing, protein powder mixing machines on the market. Keep reading to see what I have found…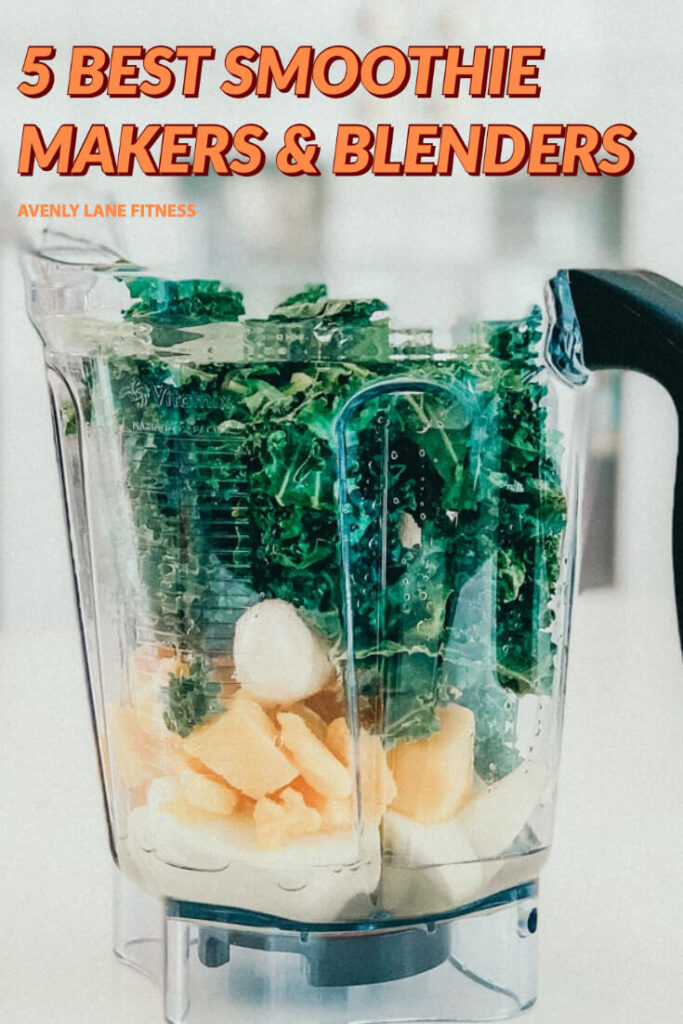 Check out the 5 best smoothie makers and blenders…
KitchenAid K400 Countertop Blender

KitchenAid is known for their beautiful colors. And this KitchenAid blender is no exception. There is a color to compliment any decor.
The blades are uniquely made so that there are four precise angles. This allows food to easily be pulled into the center of the container and perfectly blended. There are also three presets including a smoothie mode!
What I like most about this smoothie mixer is its ability to avoid splattering. A very overlooked feature that is so nice to have in a heavily used product.
Blendtec Total Classic Original Blender

This lesser known power horse should not be ruled out. Blendtec is just as powerful, if not more so than its better known blender rivals. If you are looking for an alternative option to the Vitamin, this is the best smoothie maker for you.
The blades on this machine are actually 80% thicker than most blenders. Made from stainless-steel. And they are known for also being 10 times stronger than other brands.
Clean-up is super easy, it truly only takes one minute of blending with dish soap and water. It's BPA free and a 32oz blending capacity. Some even use it with dry foods, like a food processor.
Nutribullet 600W Nutrient Extractor

The NutriBullet is known for two things – its shape and speed. That famous shape allows for a cyclonic action to break apart even the most stubborn foods. The blades are made from steel and are considered high-performance. The motor is also very powerful. 600-watts pulverized your favorite nutritious foods, making this the perfect protein shake blender.
I really love that the Bullet is dishwasher friendly. I am lazy. The less I have to clean by hand, the better. It comes in grey or black, is BPA free, and dishwasher safe. You can see why this juice blender is so popular.
Ninja Professional Countertop Blender

If you are feeling the need to chop things up like a ninja, now is your chance, haha!
This is such a popular smoothie machine. You will find it in every "big box store" out there as well as many online retailers for good reason.
It has six blades that crush food and ice with ease and speed. The 72oz liquid capacity is great for large groups. You can whip up a batch of healthy beverages in no time with its 1,000-watts of power.
If you are hoping to find a cheap smoothie maker option on this list, this is as low as you will want to go. Others I have tried that were less expensive, really did not work. I ended up purchasing so many blenders I ended up spending more money in the long run. Do yourself a favor and avoid all that nonsense and give this one a try.
Vitamix 5200 Blender Professional-Grade

We have come to the end of the list. And, I bet you were waiting to see if Vitamix blender made the cut, haha. Guess what! It is the best blender for smoothies on the market.
This "Instagram worthy" machine has its own cult following. And I absolutely agree with the extreme fandom. I have not used a more reliable kitchen appliance, period. Although it rarely needs to be used, I love the plunger. It helps you push those stuck pieces of food into the mix. All the presets actually do what they claim – puree actually means puree.
It comes in a variety of colors, has aircraft grade stainless-steel blades that seemingly never dull, and is the easiest to clean out of any of the blenders I have tried. Plus, it is great for large groups as needed.
Yes, it is more expensive but it is workhorse that is worth every penny.
So which smoothie maker did you decide on? Let me know how you like it in the comments below!
Read Next: 4 Best Smoothie Cups for Every Occasion